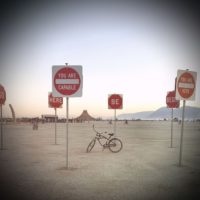 Tube 'n Lube Daily 10-3PM
Cum to the BRCH3 camp and get rollin' again!
We have a self-service Tube & Lube station where we provide many sized tubes, tire levers, basic bike tools, and of course–lube! We also have people on-hand to provide tips and basic DIY instruction on how to change a tire, and if needed, serve you a cold beverage in the Dome of Bad Decisions!
Join us for a workshop on basic stuff like chain maintenance, seat set up, and how to change a tire on Wednesday 11-1 at 8:45 & D.