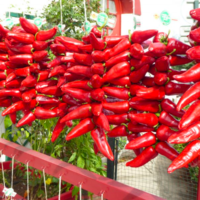 Nannerfest! (Tues 1 pm – 3 pm)
Join us Tuesday to celebrate all things Nanner related – bananas, banana peppers, peppers, pickled peppers, pickles, pickle brine, picklebacks. You'll wish the fun would never end, because we'll have all of the finest brine and spirit pairings, and there could be appearances by none other than:
Peel Diamond, Cayenna Ross, Poblano Del Rey, Ween, Sha Na Nanner, Led Pepprin, Jalapeno and Oats, Gladys Knight and the Peps, The Red Hot Chili Peppers, The Big Popper, and Katy Periperi.
You'll have an unforgettable time at Nannerfest 2022!